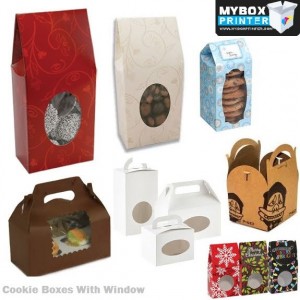 Handmade cookies are the best dessert and snacks. If you are a manufacturer of delicious handmade cookies then you need cookie boxes with window to sell your product effectively. Window with plastic cellophane is necessary for cookies as the product can be seen from outside box without opening or touching the product. Your fully decorated cookie boxes with custom printing and finishing option can make your product look cool and will attract more people and in result more sales!
There are many types of cookie boxes available in the market. There are pre-made standard plastic or cardboard cookie containers are available in the market at cheap rates but those won't do any good to your business. There are hundreds of bakers and handmade cookie makers available in the market and if you want to beat the competition then you must make an investment in the cookie packaging.
There are many types of cookies boxes available, some of them are as follows
the square Cookie Boxes
Rectangular Cookie Boxes
Tuck Top Auto bottom
Gable Style Cookie Boxes
Milk Carton Style Cookie Boxes
Square and Rectangular cookie packaging boxes are the most common and less expensive option for cookie packaging but not much in terms of design & decoration can be done with these. Window can be added on the top flap on these rectangular & square boxes. Different shape of the window can also be made to give it cool look.
Tuck top auto bottom boxes can also be customized with custom cutouts and custom shape. Foiling and embossing can be added on these boxes to make them look good and catch the eyes of buyers instantly. Gable style boxes are also very cool option for cookie packaging as these boxes have handle at top and can easily be carried. Different shape of handle can be made to give gable style cookie boxes interesting look. Milk carton style cookie boxes are the most famous one because these style boxes effectively decorate the natural effect of the handmade cookies. Cutout window with plastic is very important for all these cookie boxes with window.
Here are some of the standard and important design suggestions for the custom cookie boxes.
Ingredient list should be added to the cookie boxes as its very important and gives instant information about the natural components of the cookies.
Custom shape window along with cello should be added on the front panel and it should show inside cookies completely.
Logo along with company message or tag line should be added on front panel above the window.
Cookie weight should be added on the front panel below the cutout window in both grams and oz.
Left side panel should have ingredient list along with all nutrition facts.
Right side panel should have message about the cookies or can be left as blank along with some background design to match the theme of the packaging.
back panel should have the address and contact information about some message or testimonials if necessary.
Again, Cookie boxes with window are very important part of the cookie sales process and should be made with great details and research and should not be ignored in any case!
Why Cookie Boxes with Window are Necessary for your Handmade Cookies?